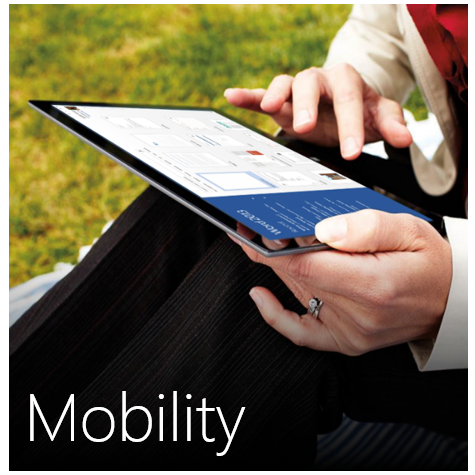 Mobile capabilities are fundamentally changing the way we do business
Companies are in the midst of a new wave of mobile capabilities that can drastically reshape business models; drive increasing levels of employee productivity; and reinvent how customers learn about, interact with, and purchase goods and services.
We'll be there for you
How mobility redefines business
Approximately ten times more smartphones and tablets are sold every day than babies are born. 2.5 quintillion bytes of data are created every day, including countless uploads of video, images, geo-positioning information, and daily updates to social media. This traffic increasingly originates from mobile devices, growing mobile data traffic some 80 percent per year.
By embracing mobile and analytics, Companies will discover, define and refine themselves and create truly unique, exciting experiences.
New mobile devices—from smartphones to tablets to ultra-portable laptops—combined with increasingly prevalent Wi-Fi and Mobile – cellular data access – let your employees stay connected from virtually anywhere.
By some estimates, more than a billion people will be using smartphones and tablets by 2016. Today's workers are increasingly mobile and they need—and expect—to be able to choose the devices they will use and to have access from anywhere to the resources they need to do their jobs.
IBM Institute for Business Value study on the Digital Front Office in 2013 indicates that  individuals are using both mobile phones and tablets to accomplish a wide range of work activities that were previously restricted to desktops.
Such work activities range from
accessing e-mail (62 percent via phone, 38 percent via tablet)
collaboration and project management (25 percent via  phone, 34 percent via e-mail)
videoconferences (30 percent  by phone, 33 percent via tablet).
The ability to perform these  and access other enterprise applications from non-traditional  office settings holds the possibility to reinvent at a fundamental level how companies execute a range of activities – from sales  and customer service to logistics and maintenance.
Currently, SMB's only make limited use of applications via mobile device; however, the increased focus on digitization is now driving application development for mobile platforms and related monitoring requirements.
What is the effect of these trends?
What are the best-practice policies for SMB's?
How do you measure results?
If you are looking to Accelerating the use of Mobility within your Company and a business partnership that enable your long term Strategy.
Talk to us